Blue Lapis Necklace tells the story of Power. This gemstone is a rich and deep blue color as mighty as the ocean and has a ring of star dust around it giving it textural magnificence.

Handmade item

Necklace length: 16 Inches and extends to 17" and 18"

Materials: Gold

Gemstone: Lapis lazuli

Closure: Lobster claw

The chain is a dainty and gold filled that has a wonderful sparkle to it.
WOMEN OWNED |  USA  |  HANDMADE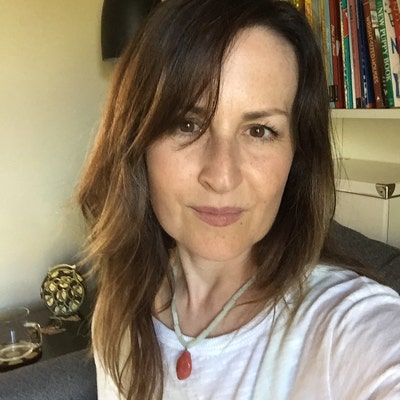 When I look at a pile of beads I feel like a painter looking at a palette full of color and cannot wait to see what transpires. I revel in the saturation of color and appreciate the way light impacts the color's depth. Creating color ensembles is what excites me the most.

We all develop our own personal style but within that style are different occasions and moods. Jewelry is that extra touch of brilliance that transforms the carefully curated outfit. We need to honor our wardrobe with that artful embellishment that adds a point of view! We must give the blank canvas of a solid colored dress or shirt the interest, color, and character that it deserves! The best back drop for a necklace is sometimes the simplest of outfits: the t-shirt and jeans. So sexy.

I savor the arts and the beauty that it brings to my life. There's great satisfaction in being an artist and making something with my own hands. And an even greater joy in sharing that with others.
While the chain and clasp are gold filled, the charm is gold plated. To preserve this beautiful piece, please remove before showering, swimming, sunbathing, sleeping etc. Kindly store it away from moisture and other elements (think bathroom sink area), where humidity or lotions and other potions could impact the beautiful piece.